Download a PDF datasheet for the full specification and Options.
Tractel Dynafor LLZ Digital Weigher
Dynafor LLZ LCD load indicators capacities 250 kg to 20 tonnes
Checking loads and measuring tensile forces! The possibilities of an electronic load indicator for the price of a mechanical device. One of the most cost effective digital solutions available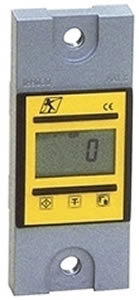 Price From £POA
Body in painted aluminium alloy
Power supply : 3 x 1.5 V, AA or R6 (diameter 14 x 50 mm).
Battery life (using 2000 mAh batteries) measurement mode : 850 hours
Features
Accuracy : ± 0,8% of capacity
Coefficient of utilisation : more than 6
LCD : 5 digits 18 mm high
Ambient temperature range : -10°C to +40°C
Weatherproof and dust proof in accordance with EN 60 529 : IP65
Tractel Dynafor LLZ Load indicator
Dynafor LLZ range of electronic dynamometer with digital for pulling and lifting applications. Using strain gauge sensor LLZ are designed for use between shackles or brackets. These units operate in all positions for forces measurement and vertically for load checking and measurement.