Download a PDF datasheet for the full specification and Options.
Tractel Dynafor LLXh Load Link Dynamometer
Dynafor LLXh LCD load indicators capacities 15 - 250 tonnes
A compact and robust unit using up to date technology, suitable for a wide range of applications where an instant indication of load applied is required. Microprocessor controlled operation with remote wireless display.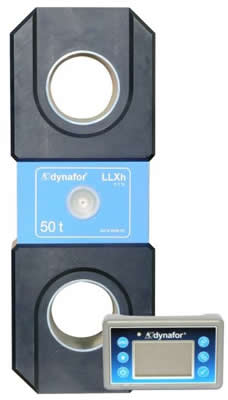 Price From £POA
Options
PC connection Kit
Connecting shackles
Swivel hooks as LLX
I.P. 67 Protection
Features LLXh
Precision: 0.2 % (ISO 376 . 21 °C)
Coefficient safety: minimum 4.
Power supply: 3 x 1.5 V "AA" batteries.
Display 1 x LI ONE battery (delivered with charger).
The standard version of the equipment comes with batteries and power pack in a carrying case for capacities up to 50 t and wood case for 100 t and 250 t.
Protection : IP 65, NEMA 4 (sensor).
Tractel Dynafor LLXh Load Link with removable display Unit
Range of electronics' traction dynamometers with removable display unit. The radio connection (2.4 G. Hertz) with 80 m working range is permanent between the LLXh sensor and the display unit. The shape of the dynamometers enable the use of standard shackles on both ends. The dynamometers of this range function in all positions for the measurement of force and suspended for weighing purpose.