Download a PDF datasheet for the full specification and Options.
Tractel Dynafor Handifor® Compact Weigher
Compact Weigher Model Handifor Capacities 20 - 200 Kg
The HANDIFOR™ devices are electronic load indicators in a miniature version for the measurement of tensile forces (N) and to determine hanging loads (kg).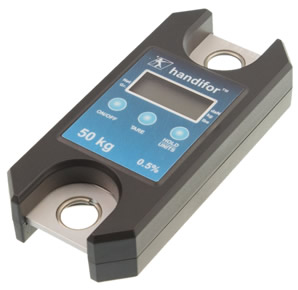 Price From £POA
Automatic Functions
Automatic zero ( if the load applied is less than 10% of the unit capacity)
Low battery indicator
Overload indicator
Calibration Certificate
Features Handifor
Liquid crystal display(LCD): 4 digits
Height of digits : 14 mm
Unit of measurement : daN / kg / lbs
Tractel Dynafor handifor compact weigher
The lightweight, compact and ergonomic HANDIFOR® is built for measuring small forces or loads. Specially designed for difficult load checking conditions, the HANDIFOR® will measure the weight of your packages, dispatch bags, courier, material in laboratories and many other materials that need weighing.