Download a PDF datasheet for the full specification and Options.
Tiger Ratchet Lever Hoist
Ratchet Lever Hoist Model Tiger Capacities 750 - 6,000 kg
An excellent quality hoist typically used in factories, power stations, offshore and in coal mines. These hoists offer excellent value for money being sensibly priced and very reliable.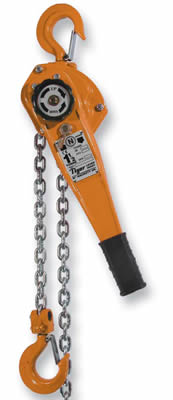 Price From £POA
Short length steel handle allows for working in confined spaces.
Safety latch swivel hooks.
Features
Rugged construction and cover protection.
High quality alloy steel specially heat treated lode chain.
Excellent spare parts availability.
Mechanical efficiency, high gear ratios keep effort to a minimum.
Hackett Ratchet Lever hoist Model Tiger
Tiger lever hoists have a rugged steel body construction for strength yet remain lightweight, compact & portable. The 360 degree handle rotation, short stroke and low lever pull effort combine to make the hoist very easy to use in all environments. Easy free wheel chaining allows quick adjustment of the load chain with no load whilst a safe, reliable mechanical brake ensures the load is controlled at all times. This hoist forms the mainstay of our hire fleet lever hoists which says it all.